Assessment
Having assessed our police clearance, diploma's and marriage certificate by the Dutch authorities, and having these assessed again by the Embassy of Qatar, and having them accepted by Qatar University's HR department, we got our one way tickets to Doha. Sounds easy but it took us almost three months to get everything done correctly.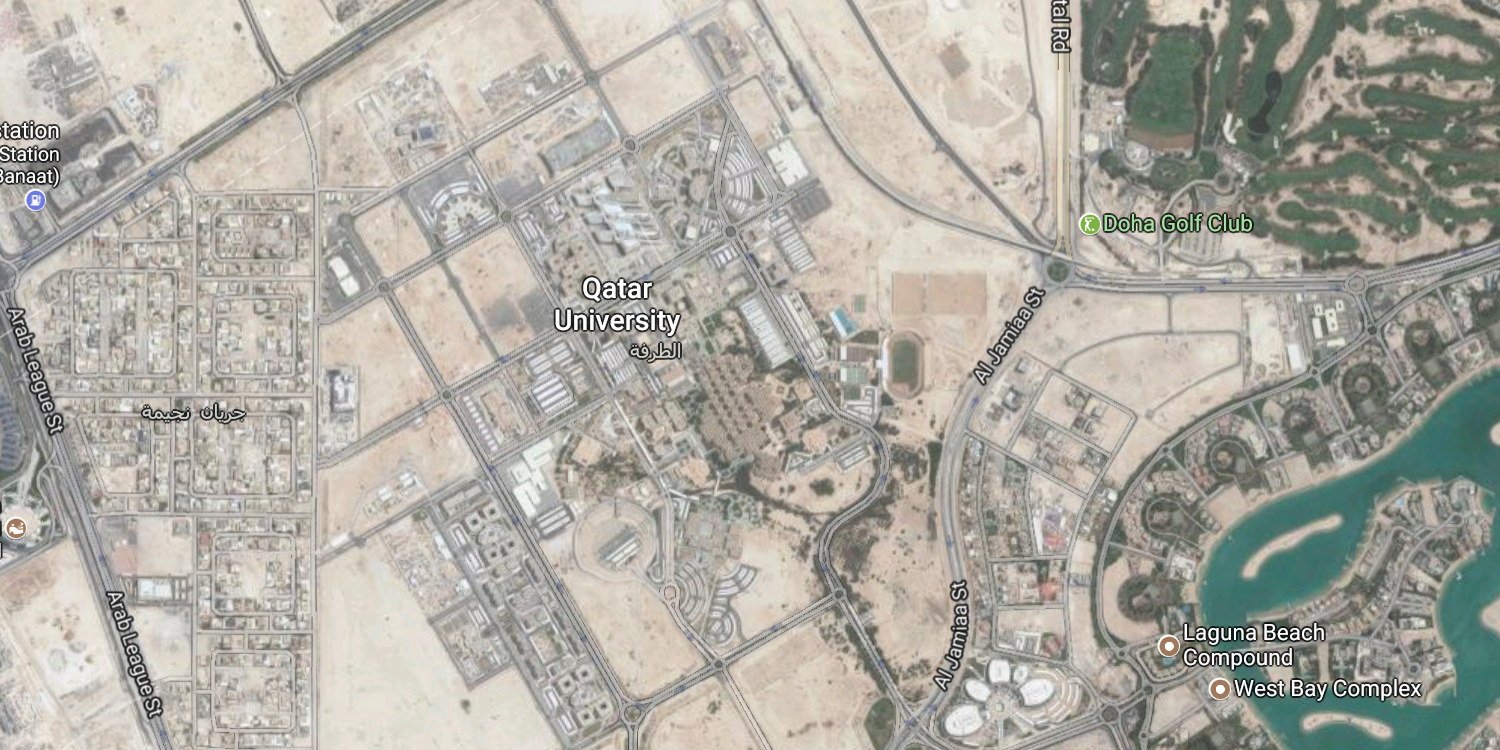 Hitting home
We sold our beach house in the  Netherlands, sold our car, packed and went for Doha to find a place to call our home the coming year[s]. When we arrived in the middle of the night we were most courteously welcomed by a hospitality service bureau who led us through customs in a most smooth way. Then another hospitality service drove us to the temporary housing they had reserved for us. Being tired and expecting a nice suite, instead we ended up in one of the compounds hired by Qatar University. "Compound" meaning a gated community with joint facilities, sharing almost everything from kitchen to front door, with 3 very Spartan basic suites behind the shared front door, felt like regular staff housing, desolate yet spacious. Not exactly what we expected, so we called it off and asked us to drive to a the Mövenpick Hotel in West Bay instead. From there we moved to the massive Ezdan complex in West Bay containing a more 3000 units and an Olympic sized swimming pool, ca 300 QAR/night. We heard that many staff of Qatar University and other companies actually live their expat lives there. We stayed for 10 days, had many viewing in West Bay and the Pearl, we were determined to find the best option. Finally we hit home with a furnished 1 bedroom apartment in Falcon Tower on Diplomatic Street in West Bay, an absolute premium location for a reasonable price, coincidentally managed by the same Al Mirqab company that manages the first compound we found ourselves dropped into.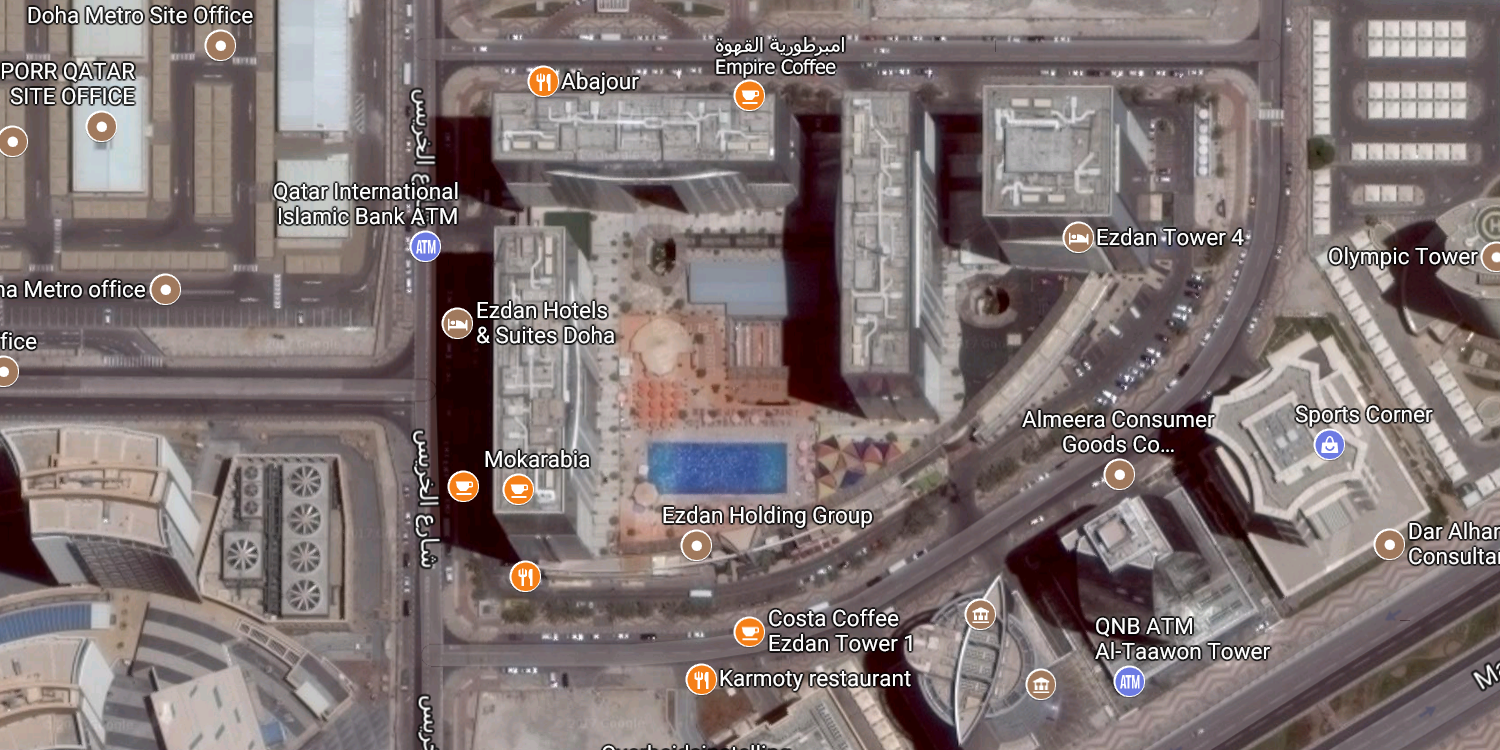 Getting licensed
In the first two weeks in Doha we managed to go through all process to get the Qatari ID, residence permit, bank account at QNB to do our shopping, the chequebook to pay the rent, the driving license. Most people were surprised that we managed to get all licenses, home and car within the span of two weeks, it turned out to be extremely effective, we spoke to a number of people who said it could take months. Since the job at Qatar University – and therewith the first payment –  first starts the 10th of September, we pre-invested a lot of money for one month rent, complete the furnishing of the otherwise furnished apartment and daily living expenses before settling down. Before we could rent the car we used Uber for almost all trips. Uber service is great here, usually 3 minutes before they arrive on your exact location, only 2.50 € for a city ride using the simple UberGo, driving economy cars like Honda City, and max 10 € to bring us to the outskirts of the city, which we had to do quite frequently to get our licenses.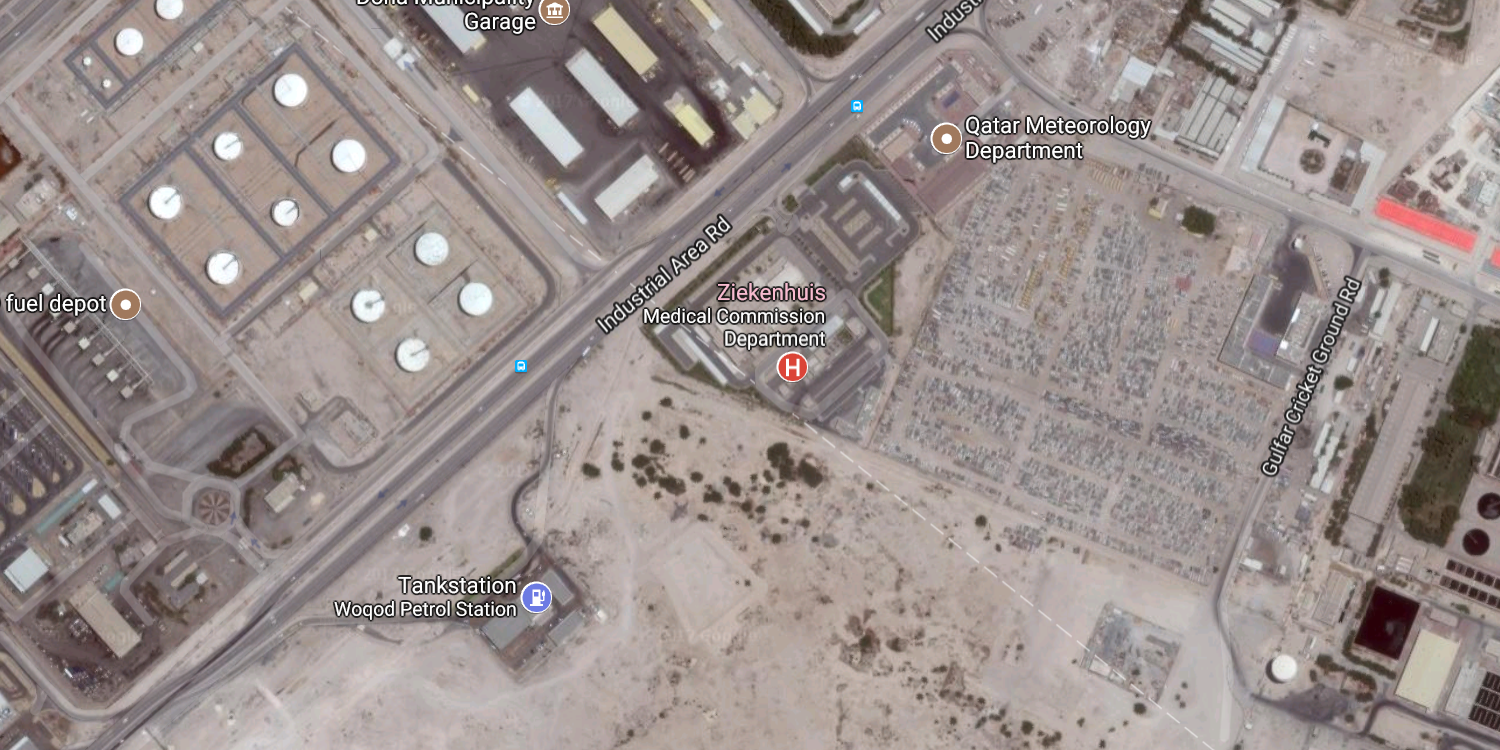 Medical check
The first thing we had to do is to have a medical examination at the Medical Commission, which is as we found out a state-owned facility at the south end of Doha, adjacent to a not yet developed part of Doha's rocky desert. Early morning we took off on a 30 minute ride with a driver from Qatar University [they have 20+ Toyota Avalon luxury cars available for staff transportation], expected to be delivered at a modern hospital of some sort as we had seen under way, but it turned out to be a  rather nondescript low-rise facility, processing all immigrant expats. We are workers after all, and all workers are treated equal. To be processed one has to know a number of things in advance, which we had to find out ourselves: first, dress according to formal Qatari rules, meaning covering legs and arms completely, and second pay by special credit card. Ilona was not allowed to enter, the from Sri Lanka originating QU driver took us back, Ilona got changed, returned again we bought credit on a temporary card, and went through the blood sample and X-ray tests. Passing the test means becoming eligible for getting a residence permit. All in all it took us a day, and gave us a first-hand experience of how the Qatari community operates.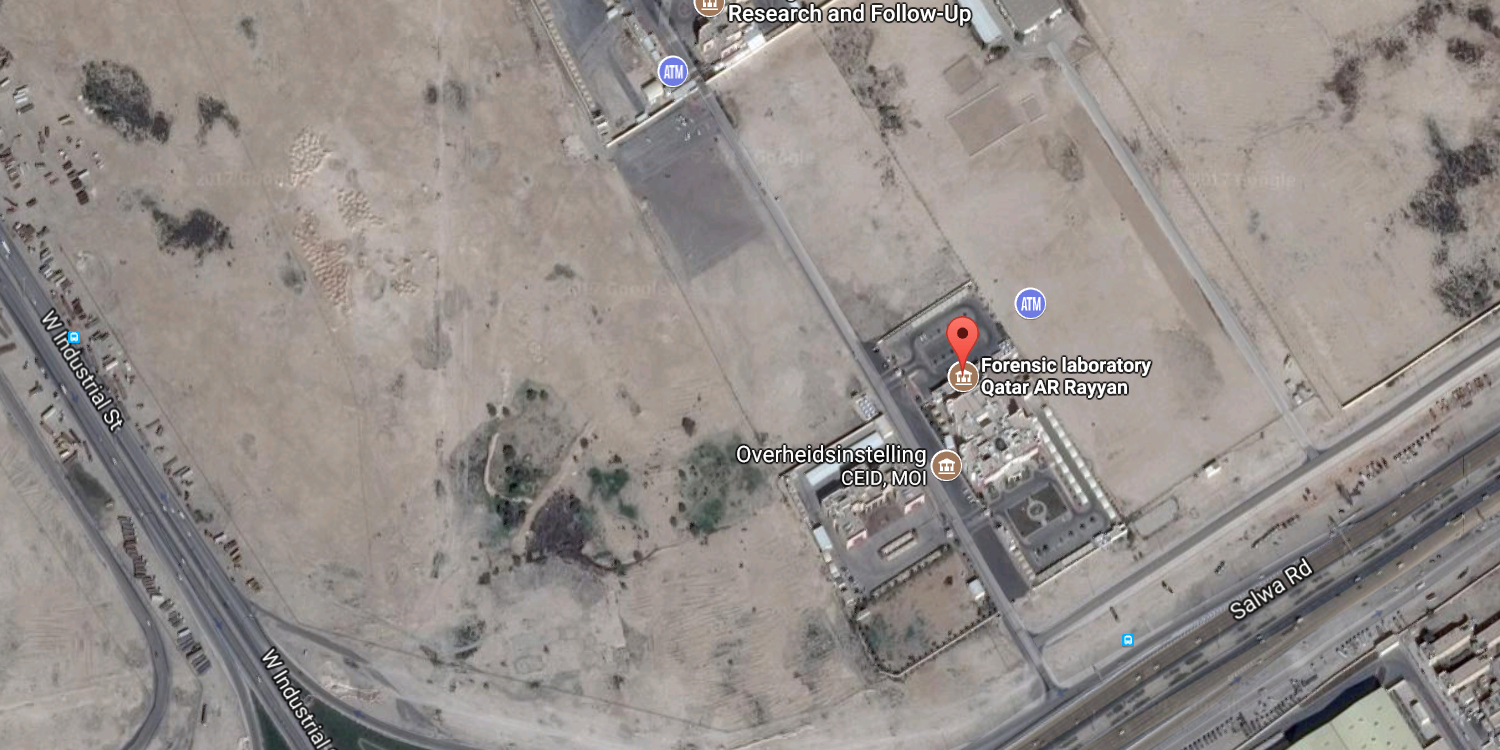 Fingerprints
After medical check we were sent the other day to The Forensic Laboratory to take fingerprints. They took all our fingers, left and right, and as if that is not enough evidence, they copied our hand palms as well. You give them one finger, they take the whole hand. We are definitely in the system now. As we heard later, all personal data are connected to one's Qatari ID. All information on any expat worker is available to the authorities. I know my ID number by heart now.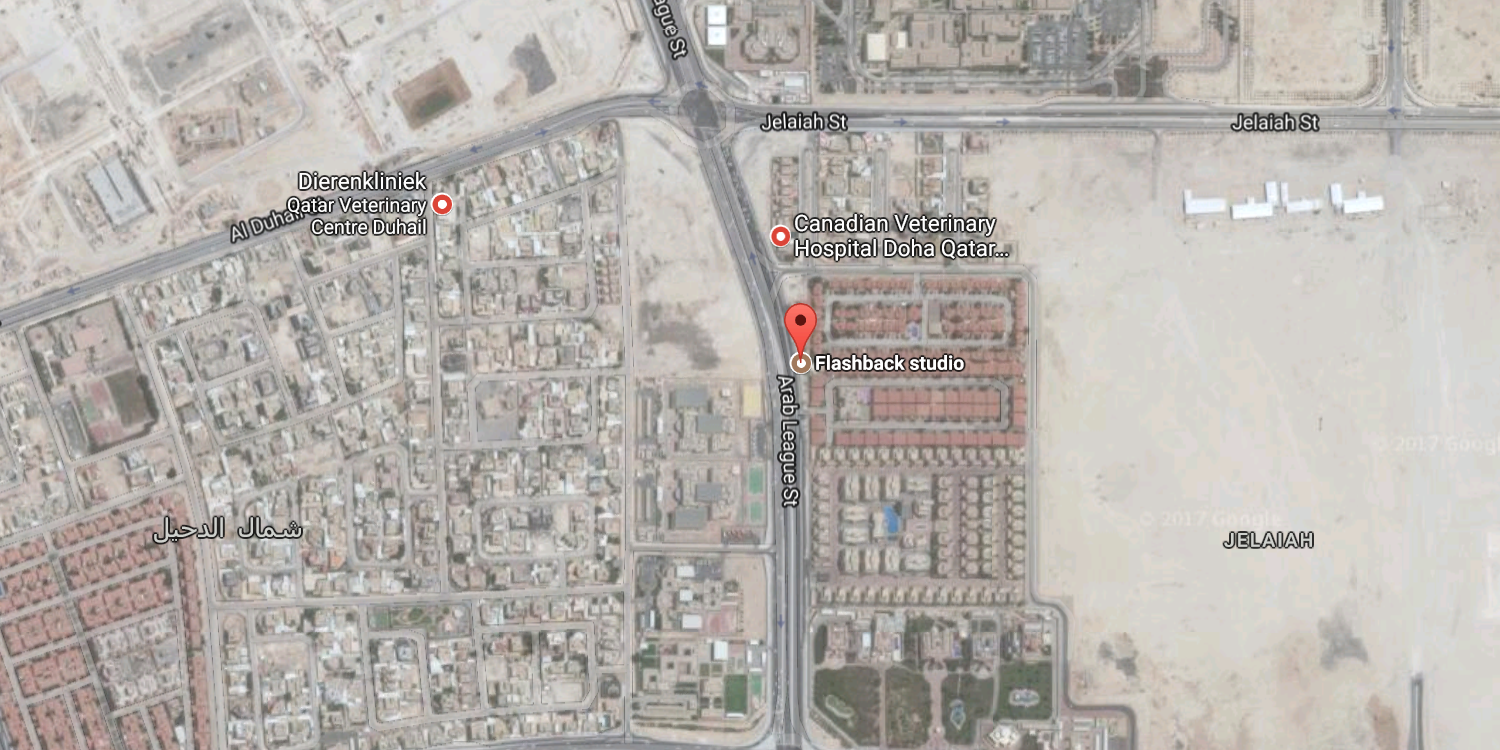 Qatari ID
Before we went we were told to bring enough portrait photo's, which we had made in the Netherlands. So we went well prepared to the HR Department at Qatar University to apply for the Qatari ID. However the rules for the formal portrait photo's had changed recently and to get our Qatari ID they told us that we would need a photo with a clear blue background. They could not tell us where to get those, they suggested one place in a nearby mall, but the driver of Qatar University got confused, and I was able through Google Maps to find one not too far from where we were lost in some residential neighborhood. Luckily the found studio that was specialised in bridal reports, could help us and one hour later we got our portraits with the mandatory clear blue background, by contrast giving more color to one's skin. The photo's were accepted, we handed in our passports to HR and we could fetch our residence permits some days later.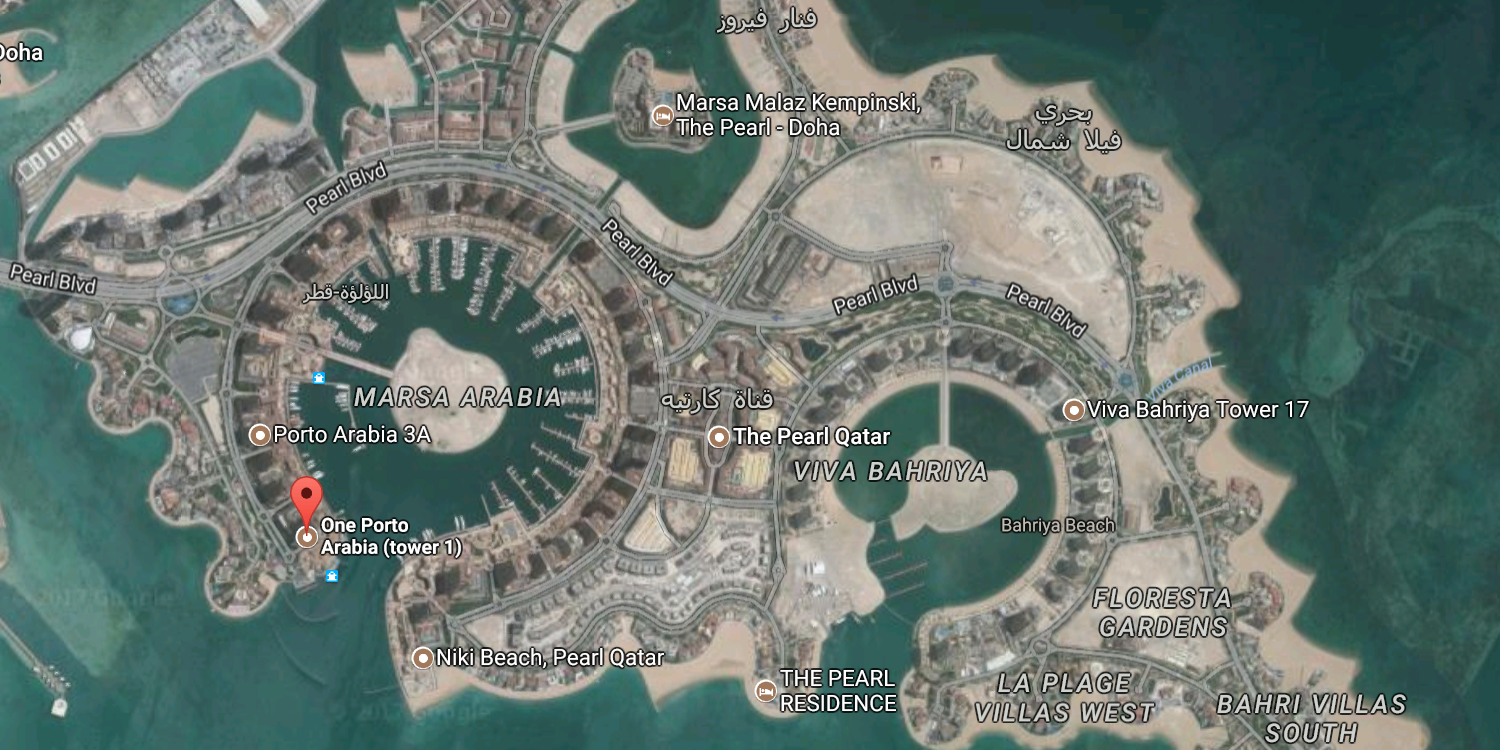 Not The Pearl
To rent an apartment and to apply for a driving license one needs the Qatari ID first. We used the days in waiting for our ID's to contact some property agents through propertyfinder.qa and went to see apartments in the Zig-Zag towers at the Lagoona Mall first. At first sight from a distance rather tempting, at closer inspection the rooms were not sufficiently spacious, great views but no balconies, but the main problem obviously was the quality of maintenance, especially with respect to the cooling. So we continued our search, guided by a young Moroccan broker girl, who showed us a rather nice furnished apartment in Tower 21 at Porto Arabia at The Pearl. But, small balcony, neighboring tower too close, so we continued our search through a number of other agents. After having viewed almost ten other apartments in The Pearl, we almost signed up for an unfurnished one in Tower 3 with a very large balcony.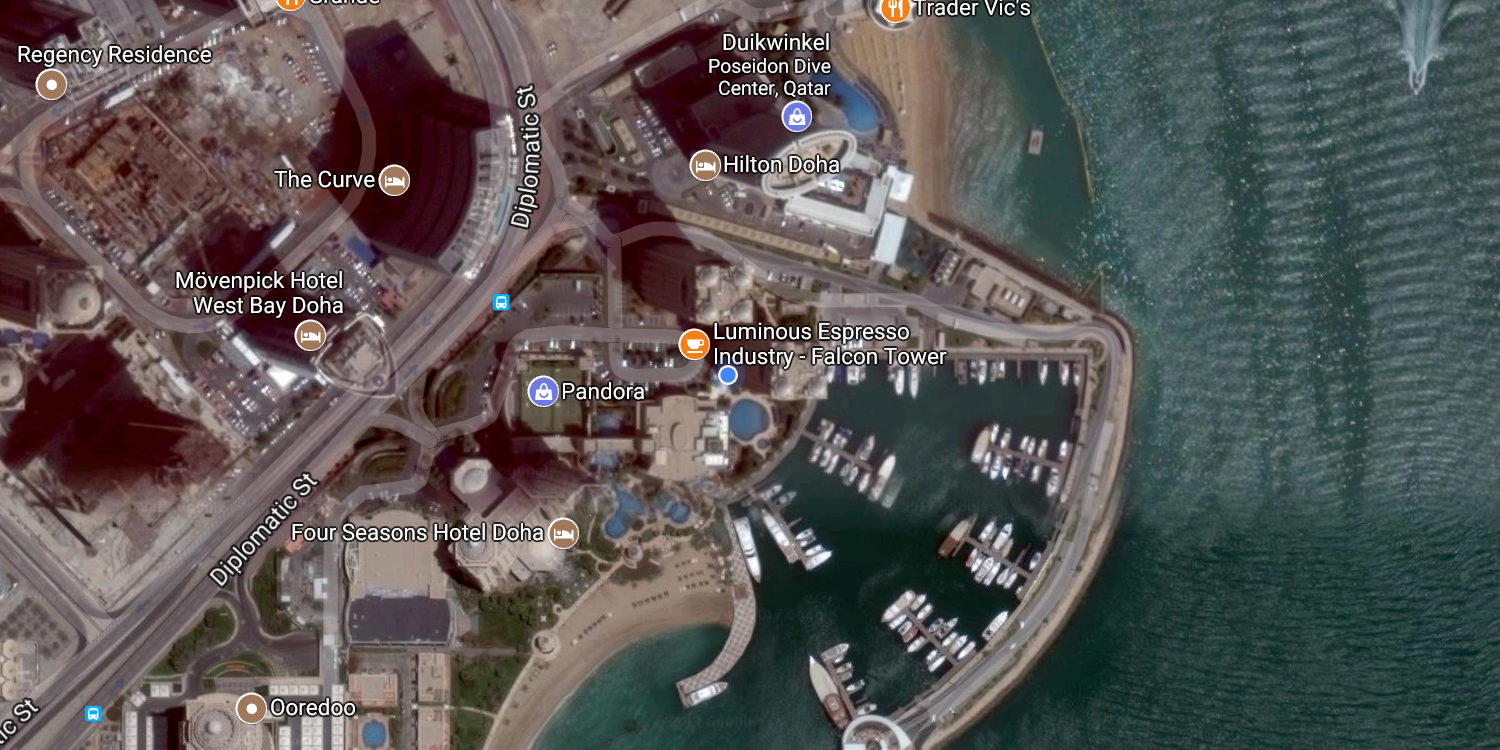 Falcon Tower !
The very afternoon that we were on our way to signing the contract to a Algerian agent working for the Majestic managers, we spotted browsing propertyfinder.qa for a last check an apartment in West Bay that looked attractive. We made an appointment for viewing directly with the Al Mirqab management that operates the Falcon Tower, and yes, this definitely was the right choice, spacious 1 bedroom with splendid sea view overlooking the whole 7 km long Corniche bay, great balcony, big 25 m pool, cooling sea breezes, and in very good condition. This apartment in the Falcon Tower, perfectly located between the Hilton and the Four Seasons, felt immediately like a home due to its high level of finishing, more modest and intimate dimensions of the entrance hall, corridors, and the apartment itself, much better than most hastily finished apartments in the Pearl towers. Just in time, we have hit home, otherwise we would have lived in the Pearl which feels like an artificial environment yet without an identity of itself, while West Bay has that Metropolitan feeling of living in a vibrant city.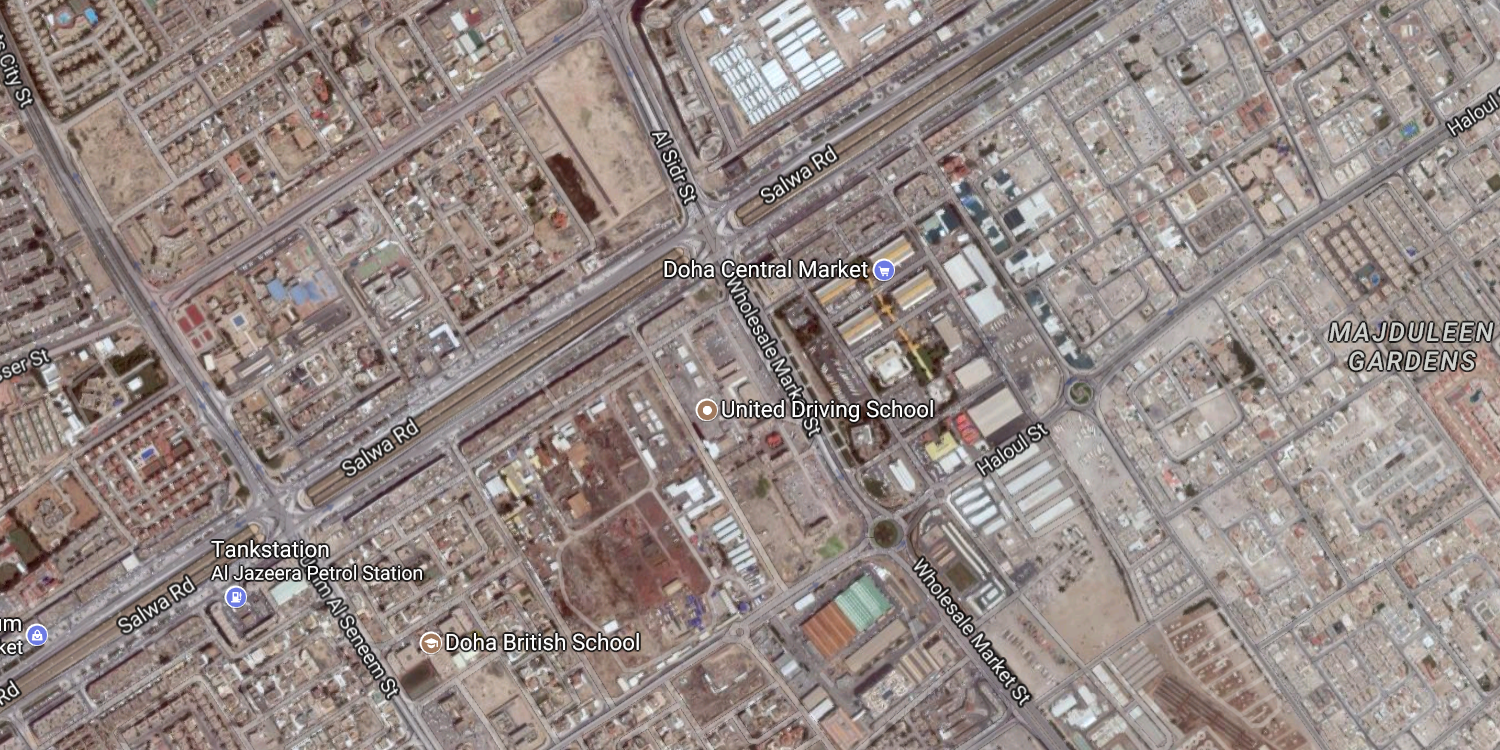 Driving license
Rules keep changing. Now having acquired the Qatari ID my Dutch driving license is declared no longer valid. I found this out when signing in for a one year leased car. They told me to go Traffic Headquarters, a brand new classical brownstone building at some other outskirts westwards of the fast expanding city of Doha. Not knowing what to expect exactly, we went there hoping to get the license on the spot. Not so, after having paid 90 QAR or so for the intake document, they told me to go one of the private driving schools to do the "test". The first driving school we went to was a private facility run in chaos probably by Egyptian staff, after strong persistence especially from Ilona's side I could go through the so-called Signal Test, 20 multiple choice questions on specific Qatari traffic sign that I had never seen before. By calculated guesswork I passed nevertheless without any mistake. So I thought that was it to het the license in the neighboring building of a local traffic department, it was in the Khalifa district near the Aspire Dome. Not so, they gave me an appointment for a Road Test for the 24th of October. But I needed it the next week, so we asked around whether we could speed up, one younger English speaking staff advised us to go to the United Driving School in another district close to the Villagio shopping mall. The regular staff in these rather shabby sheds told us the same: 24th of October, or otherwise talk to the Captain. That we did, and after some more massaging, I could do the Road Test the next morning. I miraculously passed in the automatic geared car, as all cars are here, by driving two times round the corner in a quiet residential neighborhood, I did not even had to start the car, but as was advised on internet sites I took care of adjusting the mirrors, keeping my two hands firmly on the steering wheel and extensively looking into all possible mirrors, left, right and middle. Next day our car, an almost new Honda Civic model 2015, was delivered to our residence with a half full tank.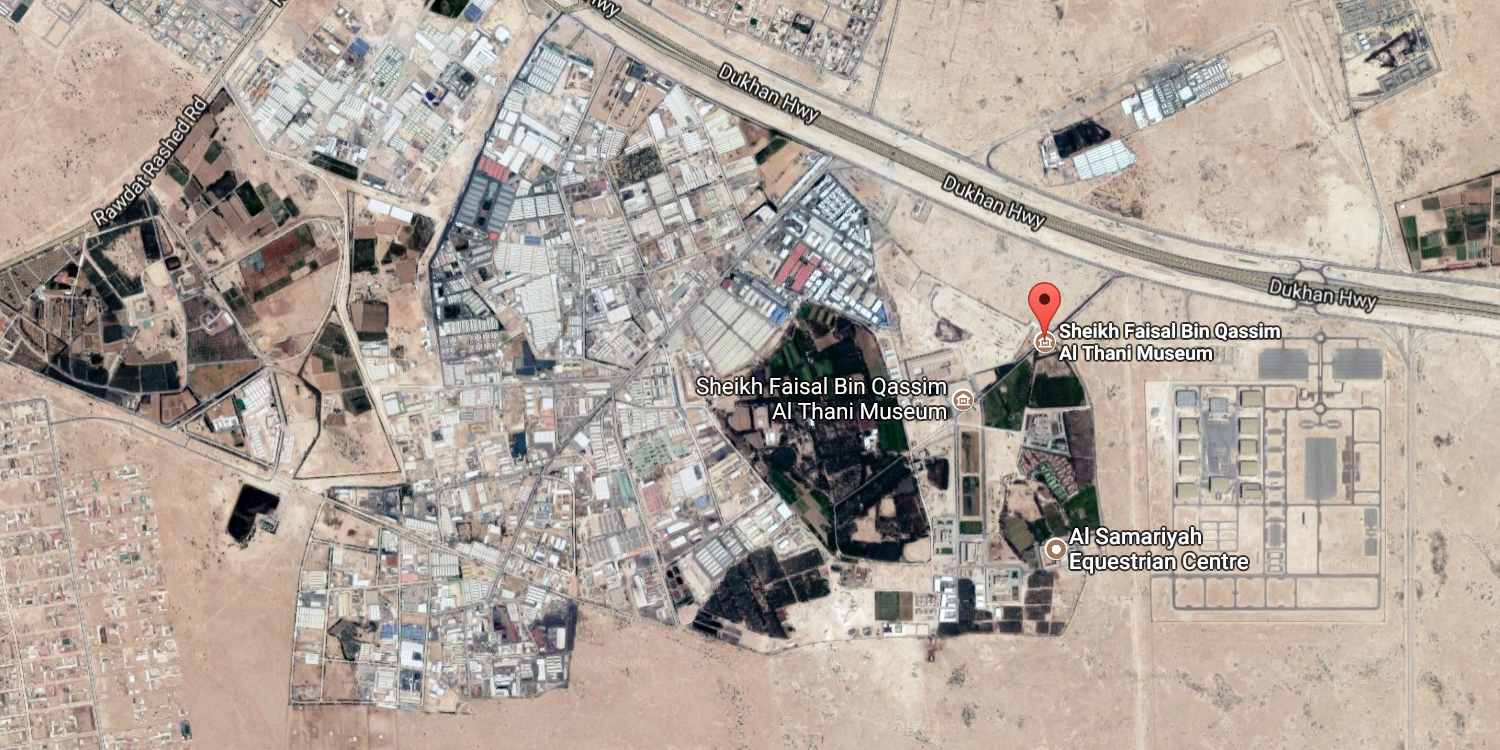 Under permanent construction
Now having got a feeling of how Qatar keeps going thanks to 2.2 million expats, predominantly from Sri Lanka, Philippines and India, having the car we are using it intensively to do further shopping at Carrefour in the very well functioning City Center close to us  in West Bay, the giant Mall of Qatar 20 km west of West Bay, the IKEA 20 km north-west. All roads between West Bay, Katara, The Pearl and Lusail are heavily under construction, meaning that each day the route can be different. In fact the whole country is under an intense reconstruction, to be continued at least until the Football Games of 2022, and up to the years of harvesting and consolidating after the Games. Google Maps updates only once a month and does not give correct info, instead we use the app Waze which gives much more accurate information based on daily feedback info from its users. Our longest trip so far was 30km westward to the extra large museum collection of Sheikh Faisal Bin Qassim Al Thani almost in the exact middle of the Qatar peninsula, stand-alone in the desert. Non unlikely the now isolated museum lot will be urbanized within a decade. Sheikh Faisal is assumedly the richest member of the ruling Al Thani family. Sheik Faisal owns many large real estate projects in Doha, both lowrise and highrise, and owns a variety of companies in construction, hospitality, trading, transportation, entertainment, education, services and information technology. He is the personification of diversifying the Qatar economy, and in his personal life he is a vigorous collector of almost everything from cars to carpets, art to complete house, from weapons to symbols of a broad scala of religions other than Islam. This is makes his enormous, to a large extent undocumented collection, very special, as explained to us by the new Dutch director Kees Wieringa, who is also a professional classical piano performer, whom we know from his famous recordings of the piano works "Proeven van Stijlkunst" of Jacob van Domselaer, as he gave us the full tour. We have hit home indeed.
Follow us on Instagram, Twitter, Facebook, Linkedin: @kasoosterhuis, @ilonalenard